Buy A Farmhouse, They Said.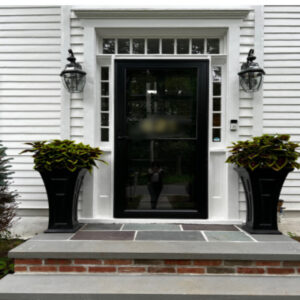 I was catching up with my BFF earlier this week. He'd just hung out with a group of our friends. 
"Everyone wanted to know how you're doing."
"Did you tell them I'm still married?"
It's an inside joke that started during the pandemic. One of us would ask how the other was doing. 
"Still married," would come the reply. 
The grind of those two years left scar tissue on many relationships — and mine wasn't immune.  The close proximity and isolation imposed on us came at a price: Where previously I had an entire tribe to turn to, for entirely too long, I just had a wife. You can read about that here.
The strain drove us to seek out more space than our NYC apartment offered, and last year we bought a beach house. 
To be clear, we bought a dilapidated farmhouse three miles from the beach which we were told was built in 1908, but came to learn was built in the 1700's.
This was my solution to the stress of the pandemic.
I knew I was in over my head the day we closed, which is why I partnered with Sara Yengle, owner of Grace and Chaos Designs, to help move me out of the paralysis that comes from having ten-thousand decisions to make before a project like this is completed.
We are in month nine of the renovation. And we've not been the easiest to work with.
Most couples have difficulty coming together on decorating decisions. Their differences, combined with the endless micro and macro decisions that need to be made, can create fuel for fighting which can last months or years. 
What makes us challenging is our limitations: We do not have endless funds. And we want things that seem mutually-exclusive: A warm, welcoming, luxurious home that doesn't feel like a museum to either our guests or our pets.
Our pets are special needs. 
Our dog, Buddha, is mostly blind, caused by vet malpractice when he was a year old. If that was his only problem we'd be fine but he has medical issues with almost every part of his body, which combined means he can't navigate stairs. And he needs clear paths in every room to navigate his way. 
We also have two cats who are not allowed to claw the furniture or rugs. If you've ever had a cat, you know how difficult a standard that is to maintain. We've managed by placing scratching posts in every room of our apartment, but those aren't known for being well-designed. Also, one of our cats passed away earlier this year, so we rescued a kitten who we've been working to integrate with our adult cat for over a month. Until then, there are doubles of the cat supplies because the cats are separated. And there are cat toys. Everywhere. Which makes me cringe.
Then there's the fact that we're both therapists who work from home and need complete privacy, while ensuring Steph works from an area where she can see Buddha since he can't see and often has medical emergencies that only she can manage. And my work area has to be television-ready, meaning, it must look good on camera, even if that compromises the look of the room irl. Try getting a designer on board with that last one. 
Most people hire designers because they want a space that looks amazing. For us, the greatest value has been the emotional support. 
The overwhelm that comes from a project like this cannot be overstated. It happens to everyone. Even people who make decisions easily. I am someone who agonizes over the most granular detail. I can research different shades of blue for weeks before committing.
What Sara has done is help facilitate our progress. She sees the flood of anxiety that comes from overthinking things, and she reassures us in a way that, without her, would undoubtedly result in me morphing into that person who imposes a survey on everyone who visits, making them vote on their favorite fabric. Or the right wallpaper. Or the furniture layout. And then I'd have no friends and a dilapidated farmhouse.
We're coming down the home stretch, as the saying goes, of this renovation. Our goal is to be done before summer's end, which I remind myself when I feel impatient that we still do not have even one room that's complete. 
It's been an exercise in patience, made much easier because our first decision as homeowners was to partner with someone who knows her way around the design and emotional obstacles that come with a project of this scope.
And when it's all over — which it will eventually be — we'll remember that if it weren't for the pandemic, we'd probably still be dreaming about having a beach house instead of living in it. I suppose we needed to feel like time was running out to create the life we wanted to live. 
What would you do if you felt time was running out?